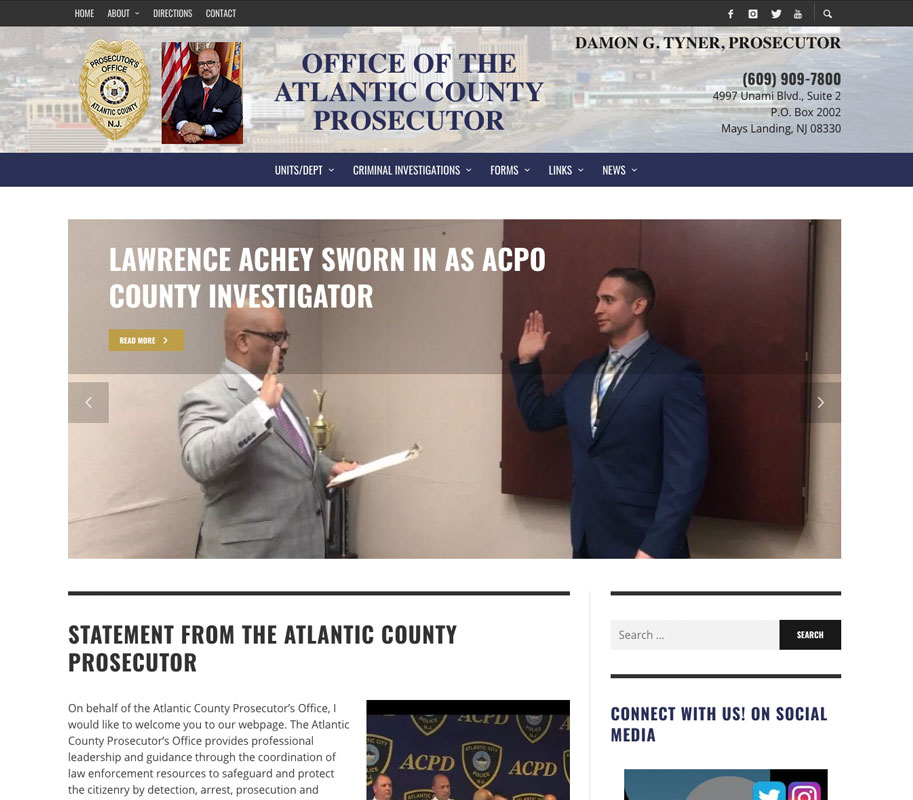 About the Client
Prosecutor Damon G. Tyner was appointed as the Atlantic County Prosecutor on March 15, 2017 by the Governor of New Jersey with the advice and consent of the State Senate.  He previously served as a Judge of the Superior Court of New Jersey from July 2014 through March 2017.  He served in both, the Chancery Division – Family Part and the Criminal Division.  Prosecutor Tyner also served as an Administrative Law Judge in the Office of Administrative Law from July 2012 through June 2014.  He is a graduate of Howard University (B.S., 1993) and Widener University School of Law (J.D., 1997). He was admitted to the practice of law in the State of New Jersey in 1997.
While in private practice, Prosecutor Tyner's practice consisted of real estate development, land use matters, municipal law, labor law, and education law.  Prosecutor Tyner started his career as a law clerk to the Hon. Albert J. Garofolo, P.J. Crim., and continued it as an associate in the Atlantic City regional office of Fox Rothschild (1999-2006), and then served as Counsel to Parker McCay, P.A. (2006-2012).
Prosecutor Tyner was featured in the 2007 edition of New Jersey Super Lawyers – Rising Stars.  In 2006, he served on the Revitalizing New Jersey Communities Committee of Governor Jon Corzine's transition team.  In 2005, he was named to the Top 40 Under 40 list by Atlantic City Weekly/Greater Atlantic City Jaycees and in 2004, he was named to the New Jersey Law Journal's "40 Under 40" list, honoring the top forty attorneys under the age of forty in the State of New Jersey.  Prosecutor Tyner's service has been recognized by both, the Atlantic County Bar Association and the community, as the recipient of the Hon. Benjamin A. Rimm award (2003) presented annually by the Bar Association to the most outstanding young attorney in Atlantic County and the Judge Herbert Jacobs Award from the African American Male Conference.
Prosecutor Tyner is a native of Atlantic City, NJ, and now resides in Egg Harbor Township, NJ.