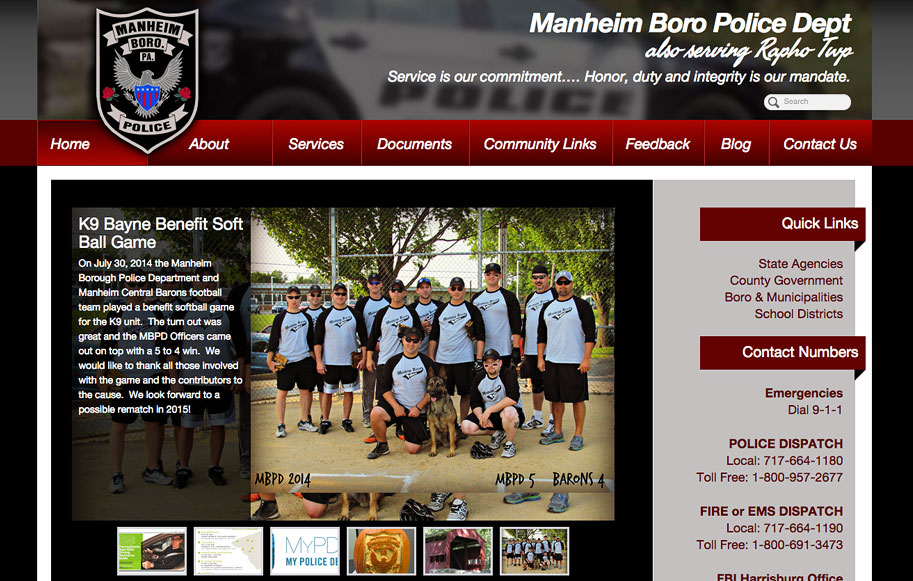 About the Client
The Manheim Borough Police Department is comprised of 17 sworn Law Enforcement Officers, 2 administrative assistants and 6 crossing guards. Within the Police Department we have several roles which include: Patrol Division, Criminal Investigations, Traffic Enforcement / Investigations, Drug Investigations, School Resource Officer, Emergency Services, Administrative Assistant and and Executive Staff.
The Manheim Borough Police Department serves the communities of Manheim Borough and Rapho Township by protecting citizens and property, preventing crime, enforcing laws, and maintaining order. All Officers of the department are included in the rotation to patrol Manheim Borough and Rapho Township so they gain expertise in both communities. Manheim Borough Police Department patrols the 47 square miles of Rapho and 1.5 square miles of Manheim Borough. Rapho Township's population is 9,888 and Manheim Borough's population is 4,652.
The mission of the Manheim Borough Police Department is to provide the highest quality law enforcement services possible, while maintaining safety and security to our citizens. To accomplish our mission we will adhere to the values of professionalism, integrity, respect, responsiveness, and leadership. We strive to deter crime while being proactive in our enforcement of state and local laws impartially. We have dedicated ourselves to working in partnership with the citizens of Manheim Borough / Rapho Township, the legislators, prosecutors, judges, and other law enforcement agencies. We do this with the highest standard of conduct while on duty and in our private lives. We are committed to preserving the quality of life, property, and individual rights guaranteed by the Constitution of the United States. We will continue to be a knowledgeable and well-trained police force that evolves and grows through continuing education and our partnerships with the people we serve.