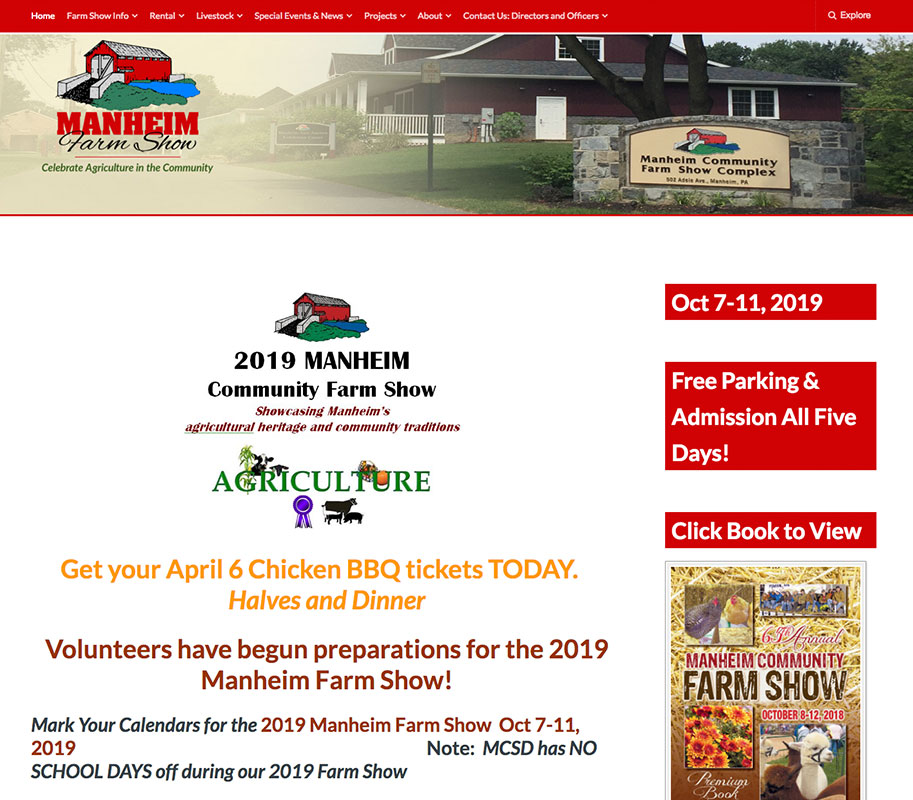 About the Client
The Manheim Farm Show grounds are located at 502 Adele Avenue (next to Manheim Central High School) , while food stands are located along the avenue in the vicinity of Manheim Central High School Rettew Field and Veterans Memorial Park.  Its annual date is set as the first full week of October the week following the New Holland Fair.   Admission and parking are free.
Manheim's present-day Farm Show was launched in the early '50s, when the Community Farm Show Association was reorganized (for a second time). According to the book, Manheim Revisited, the tradition of holding a Farm Show in Manheim dates to the 1920s when it was first held in the basement of the Waughtel Moving Picture House on West Ferdinand Street. Two years later, large tents set up on Market Square played host to the show.
The show disbanded for several years, but returned in 1931 under the leadership of Ammon H. Bucher. For the next 10 years, the show operated out of tents on Market Square and on properties owned by local businesses. Amusement rides were added to the event during this period.
After reorganizing in the '50s, the show continued on Market Square, as well as at the Fire Hall, Scout Hall and on property owned by Spahr's Garage. The focus of the Farm Show returned to showcasing animals, arts & crafts, sewing, cooking and baking projects, and farm-related equipment.
Today, the association maintains fairgrounds that are located between Manheim Central High School and Chiques Creek. The location has its challenges. In 2011 Tropical Storm Lee caused the Chiques to overflow its banks and deposit up to 4 feet of water in the fairgrounds' buildings. Volunteers spent the next month cleaning and readying the buildings for the upcoming Farm Show, which went on without a hitch. Prior to the Farm Show, the association gave back to the community by welcoming the borough to use the property as a distribution center to aid those affected by the flooding.
Two years later, flooding overwhelmed Manheim during the Farm Show , causing many Farm Show activities to be relocated or canceled. But, Manheim vowed to forge on. The good news is that the fairgrounds continue to grow and improve. A new Exhibit Building was completed in 2013 and a remodeled and enlarged Champions Livestock Show Arena debuted in 2017.